Agenda for Day 2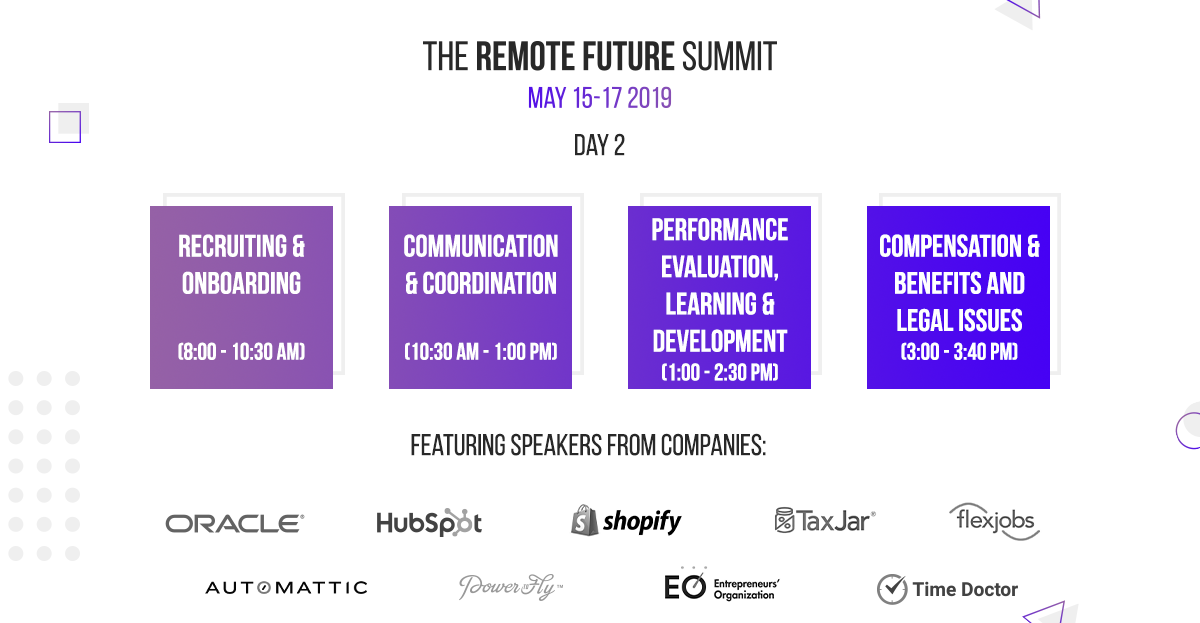 👇 SCROLL DOWN FOR THE FULL AGENDA👇
👍 08:00 - 8:15 AM - LIVE INTRO TO THE DAY WITH IWO SZAPAR FROM REMOTE-HOW
RECRUITING AND ONBOARDING (PDT / GMT-7)
8:15 AM | Maksymilian Majer & Tor Daneshmand: Effective Solutions To The
Shortage Of Top-Skilled Devs In Your Area – How To Hire Remotely?
8:35 AM | Nadia Harris-Kosior: What Makes A Remote Worker Successful?
Skills You Should Be Looking For.
8:55 AM | Gordon Mullan: Video Interviews: How To Recruit Remotely?
9:15 AM I Lauren Hagerty: Increasing Diversity with Remote Hiring
9:35 AM | Will Fan, Lior Zehster & Casey Carr Jones:
Dos And Don'ts Of Onboarding A Remote Employee.
COMMUNICATION AND COORDINATION (PDT / GMT-7)
10:30 AM |Sandy Elvington: Leading Successful Teams In A Virtual World
10:50 AM | Meaghan Williams: First Things First: Setting Expectations With Remote Employees
11:10 AM | John Riordan: Overcoming the challenges and nailing it
11:35 AM | Ricardo Fernandez: How To Retain Company Culture Across Borders & Time Zones?
12:00 PM | Darcy Boles: Digital Water Coolers. How To Set Them Up, Why You Need Them?
12:30 PM | Kavi Guppta: Employee Engagement In A Remote Workforce.
12:50 PM | Jen Raines-Loring: How To Launch A Thriving Virtual Community
PERFORMANCE, EVALUATION AND L&D (PDT / GMT-7)
1:10 PM | Panel: Liam Martin, Mike Gutman &Sara Rosso - Tracking Hours Or Results?
2:00 PM | Rosette Obedoza: Coaching As A Tool For The Development Of Your Remote Employees
2:20 PM | Amy Anger: How To Prepare And Develop Your Baby Boomers For A Remote Work Setting?
COMPENSATION, BENEFITS AND LEGAL ISSUES (PDT / GMT-7)
3:00 PM | Tara Vasdani: Employee Benefit Program For Remote Employees.
3:20 PM | Emma Heuston: Workplace Flexibility And Parental Leave.